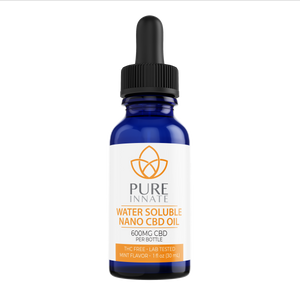 Nano-Emulsion CBD Oil
Our Water Soluble Nano CBD Oil has all cannabinoids and terpenes naturally found in hemp except Delta 9-Tetrahydrocannabinol (THC). 

Direct absorption
Truly water-compatible CBD product
10x more effective than regular CBD oil products
The proprietary formulation allows the CBD to bypass some of the digestive processes to provide fast results.
Faster onset and increase bioavailability 
More CBD retained than standard tinctures
Our unique nanotechnology process emulsifies CBD into millions of tiny particles.  These smaller particles are more easily absorbed, thus increasing the absorption and bioavailability of CBD.  
Supplement Facts:
Broad Spectrum Nanoemulsified CBD Oil with mint flavoring.
20mg of Broad Spectrum Nano CBD oil per serving.  600mg of CBD is contained in the entire bottle.
Other Ingredients: Ultra distilled water, MCT oil, Sunflower Lecithin (Non-GMO), Natural flavor, Stevia